Skip Main Content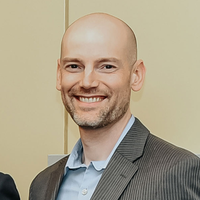 Daniel R. Porter, PA-C
ROLE:
Physician Assistant
SPECIALTIES:
LANGUAGES:
WE CARE ABOUT YOUR FEEDBACK!
Please take a moment and let us know how your experience was.
REVIEW US
Meet Daniel R. Porter, PA-C
Dan joined Sports Medicine & Joint Replacement Specialists Corp. in 2010. Since his arrival, he has been an important part of the clinical team. Dan provides patient care through office visits, surgical assisting, and hospital rounds.
His interest in Orthopedics was first sparked as an athlete in college and was later solidified with his Orthopedics rotation during graduate school. "I have found Orthopedics to be both an exciting and rewarding field where we can see the work we do make a real impact in our patients' lives."
Additionally, a background in psychology has given Dan a unique perspective on patient care. "What we do is so much more than just treating the broken bone or arthritic joint. As it is important in understanding what impact the patient's disease has on their daily lives. My role as a physician assistant affords me the opportunity to provide care on a personal level, a role I enjoy."
Dan earned his bachelor's degree in psychology and pre-professional studies at the University of Notre Dame where he graduated Magna Cum Laude. He went on to earn his Masters of Science in Physician Assistant from Seton Hill University. He is board-certified through the National Commission on Certification of Physician Assistants and is a Certified Clinical Densitometrist through The International Society for Clinical Densitometry.
Dan currently resides in the South Hills of Pittsburgh with his wife and children. We are a member of AOA (American Orthopedic Association).
Call us today at (412) 207-9780 to schedule your appointment with Dr. Habib and his talented team. Visit us at one of our three locations in Pittsburgh, Greensburg, and Warrendale.
Thank you for subscribing!
You will receive important news and updates from our practice directly to your inbox.
Thanks!